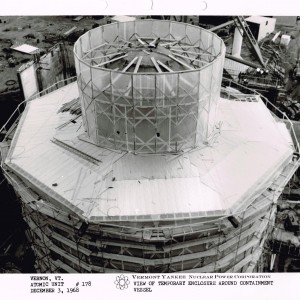 Vermont Yankee Nuclear Power Corporation was formed in 1966 by a group of New England utilities, including Vermont's two largest utilities, Central Vermont Public Service Corporation and Green Mountain Power Corporation. The Vermont Yankee Nuclear Power Station (VY) began commercial operations in March 1972. Vermont Yankee Nuclear Power Corporation (VYNPC) sold the Station to Entergy Nuclear Vermont Yankee, LLC (EVY, and collectively with Entergy Nuclear Operations, Inc. (ENO), referenced here as Entergy Vermont Yankee), on July 31, 2002.
It was planned and constructed at a time when New England was heavily dependent on imported oil for electric generation. As oil supplies for New England grew more unstable and as the environmental degradation caused by fossil-fired pollution was becoming apparent, New England was among the first regions in the country to invest in nuclear plants as an alternative to fossil-fueled power plants.
The impact of Vermont Yankee on the local community and the state was substantial. During construction many good jobs were brought to the local area, and when Vermont Yankee became fully operational some 250 local jobs made the facility an economic engine for the community. After a four-year construction and federal licensing, Vermont Yankee was staffed with highly qualified maintenance technicians and electrical, mechanical and nuclear engineers. Many of the operating staff were drawn directly from the US Navy nuclear propulsion program. By 1972, the plant was up and running and selling nuclear-generated electricity over the 345,000-volt transmission lines to New England consumers. The plant's electricity, dispatched by the New England Power Pool, proved reliable for full-power operations around the clock and it positioned the state well against the Middle East embargo on oil shipments to the United States.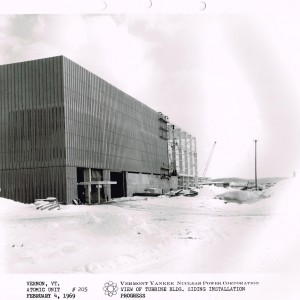 With Vermont Yankee reliably on line, and with safety as the highest priority, oil-fired power plants in the northeast were gradually edged out of the role of baseload electric generators which was a major step in reducing air pollution in the region.
Less fossil-fired pollution has meant less mercury in the rivers and less acid rain impact on sugar maple trees and other important species in the economy. With the discovery of the greenhouse effect on a global scale, it is clear that the environmental benefits of nuclear generators like Vermont Yankee go well beyond New England.
Over the next 42 years, Vermont Yankee brought in additional engineering services, quality assurance and licensing personnel—positions that had previously been filled by out-of-state contractors—and made additions to its normal staff to bring the total employees including permanent contractors to nearly 650. During those years, Vermont Yankee provided low–cost, base-load power to Vermont.
Throughout Vermont Yankee's operating life, New England electricity consumers benefited from the stable fuel cost inherent in nuclear energy and the continued safety focus of those who oversaw the plant.